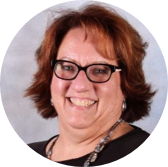 Current Position: Director, Medical Affairs Program at Oregon Health & Science University
Ann Klinger began her career in medical staff services in 1998 at Tuality Community Hospital in Hillsboro, Oregon. Prior to entering the world of medical staff services, Ann worked within the hospital with an IPA. Because of the link between her activities and the medical staff office, Ann was exposed to credentialing and became fascinated by it. Ann then took the online courses then offered by NAMSS. She also volunteered to do some of the credentialing and found that she loved the research and the "sleuthing." She was hooked and knew that this was her calling. When the position of Medical Staff Coordinator became available, Ann jumped at the opportunity – and because of her preparation via the online courses, she nailed the position.
We all have memorable moments in our careers and Ann shared a few of them with me.
She read the New York Times best seller "Blind Eye" by James B. Stewart. If you haven't read it, you should as it is a fascinating read for people who aren't involved in credentialing. For those who are involved in credentialing it is even more compelling. The book made Ann realize that those involved in credentialing are engaged in protecting patients and how important (and satisfying) that can be.
As Ann worked with department chairs to respond to reference letters, she appreciated how important it is to be candid and truthful in communicating information about physicians who had been on the staff of her hospital to other organizations so that they could make credentialing decisions based upon good information. Again – patient safety is at the core of credentialing.
Fast forward 17 years, during which time Ann got very involved with the Oregon Association Medical Staff Services (OAMSS), and a supervisor position with a health system health plan became available. Ann decided that she needed to propel her career forward and took the position when it was offered. She continued to be active in OAMSS as well as the state-wide Oregon Common Credentialing Project which helped to give her visibility and as a result, she was recruited for her current position, Director, Medical Affairs Program, Oregon Health & Science University (OHSU). Ann has been with OHSU for a year and during that time has accomplished a number of projects including revision of the credentialing procedures manual, updating the Medical Staff Bylaws, and creating/revising other policies and procedures. Additionally, OHSU went from Joint Commission accreditation to DNV and they affiliated with a new hospital (and Ann is working on integrating the credentialing systems for OHSU and the new hospital plus helping the new hospital to achieve paperless credentialing).
Ann's position with OHSU is her "dream job." When asked what she likes about working for OHSU, Ann responded that she enjoys being on the hospital side, involved with physicians, credentialing and privileging. She likes working on projects – one of which is to make the credentialing process as efficient as possible for OHSU providers. And – she still loves the fact that she is involved with protection of patients. When I asked Ann if there were anything about her current job that she would change, she responded that in this setting, getting decisions made sometimes takes longer than what she would like (I think that we can all relate to this issue!).
Ann's advice for MSPs:
1. Get involved in your state association. Go to a meeting – go to the annual conference. Apply for a scholarship if your organization won't pay for it. Get involved in NAMSS if you can. Volunteer. All these things will help increase your knowledge and provide opportunities.
2. Be curious. Don't be afraid to be a Nancy Drew. Excellent credentialing demands curiosity.
3. Reach out to others in the profession when necessary.
I hope that you have enjoyed meeting Ann. VerityStream is fortunate to have Ann as a speaker at our upcoming 2018 VerityStream National User Group Conference in New Orleans. She will be part of a team that speaks on "Creating and Implementing a Paperless Decision-Making Process."
Thanks, Ann for the work that you do to keep patients safe.