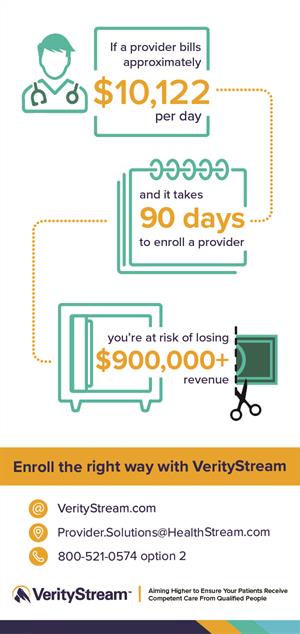 If you're responsible for payer enrollment at a medical group practice today – my guess is that your process looks something like this:
Your medical group practice recruits a new physician.
You onboard them and submit for enrollment with health plans.
You wait 90 days for the health plan to credential the provider.
You're getting the job done, but you're also losing a lot of money. How much?
If a busy provider bills approximately $10,122/day and it takes 90 days to enroll a provider, you're at risk of losing $900,000+ in revenue.
Over the years, I've heard a lot of ideas around how to speed up the credentialing process and I've seen my clients try a lot of things. Automating form completion and chasing the health plans for updates can cut a few days off the process, but the truth is, most medical groups are stuck playing 'the insurer credentialing waiting game'. That's why I recommend that medical group practices take the credentialing process into their own hands by implementing delegated credentialing.
What is delegated credentialing?
According to the NPDB Guidebook, delegated credentialing occurs when a health care entity gives another health care entity the authority to credential its health care practitioners (e.g., a preferred provider organization [PPO] delegates its credentialing to a hospital or medical group). Delegated credentialing goes beyond credentials verification, because the delegated health care entity (e.g., the hospital or medical group) is responsible for evaluating practitioners' qualifications and making credentialing decisions on behalf of the delegating health care entity (e.g., the PPO).
What are the benefits of delegated credentialing?
The benefits of delegated credentialing from a medical group practice's perspective are many. First and foremost, with delegated credentialing you can eliminate weeks from the provider enrollment process. With the right tools, I've seen practices complete the process in just 7-10 days. A reduced turnaround for network participation means timelier reimbursement from your payers. Depending on the terms of your agreements and how many you manage to put in place, you may also be able to greatly reduce the amount of time and resources dedicated to provider enrollment. Finally, delegated credentialing increases both practitioner and patient satisfaction, as your new providers can rapidly put their expertise to work and your patients benefit from that care.
How can I get started with delegated credentialing?
Sounds good – right? I bet you're ready to get started. Unfortunately, I've see many medical groups struggle with setting up and maintaining an in-house credentialing process that is cost effective and scalable while also meeting the needs of their payers. Most health plans are eager to delegate more of the credentialing work to provider groups because it helps them lower administrative costs, but before they will agree to delegate, there are two things you'll need to do:
#1: You must implement a robust 'in-house' credentialing process.
Prior to signing an agreement with a potential delegate, a health plan will perform a full evaluation of the delegate's ability to perform credentialing tasks. This evaluation will include a written review of the delegate's understanding of standards and delegated tasks, a review of the delegate's policies, procedures and files, and assessment of the delegate's staffing and performance levels.
The NCQA is the most prevalent and widely recognized health plan accreditation program in the country. When it comes to delegated credentialing, most, if not all, health insurers will require that a delegate's processes and procedures are compliant with relevant NCQA Standards and Guidelines before they agree to delegate credentialing and recredentialing. NCQA Credentialing Accreditation signifies that your medical group practice has an efficient and accurate process in place that:
Verifies practitioner credentials through a primary source, a recognized source or a contracted agent of the primary source.
Has a designated credentialing committee in place to review practitioner credentials and make credentialing recommendations.
Aligns with state requirements.
#2: You must execute a delegation agreement that specifies the responsibilities of each party.
Each delegated credentialing contract you engage in will need to be individually negotiated. You can expect a standard contract to include specifics on the following:
Roles and responsibilities of each party and the activities being delegated
Reporting frequency (expect this to be at least semiannually)
A performance evaluation process
Use of Protected Health Information (PHI)
Remedies for non-compliance
The right of the plan to make final decisions
After these steps are complete, your organization will be responsible for credentialing. From there, you'll be responsible for sending the health plan an updated provider roster on a regular basis (often monthly). A provider roster is a file that your organization submits to the health plan in order to associate or disassociate a provider with your organization. Rosters include information on changes of status, address, billing information and any new or terminated providers. In theory, when a health plan receives a roster update, a new provider can be considered "Participating" and, therefore, eligible for reimbursement. You can also expect that your payer(s) will perform yearly audits to ensure that polices and procedures are being upheld.
Final thoughts
There are a lot of boxes to check in order to establish a delegated credentialing arrangement, but the benefits to both you and your provider organizations are worth the work. If you're considering going down this route, I encourage you to use technology to your advantage. The right credentialing software will greatly simplify the process of managing your data and delegated contracts, building your delegated rosters and submitting them to your payer(s).
If you need help getting started with a delegated credentialing program or you're struggling to maintain one you have in place, read our Guide to Delegated Credentialing.