This blog post is based on a webinar - Emerging Trends: The Impact of Technology, COVID-19, and Other Factors on Credentialing and Medical Services presented by Vicki Searcy and Lisa Rothmuller.
The World of Credentialing and Medical Services Over the Past 50 Years has experienced a variety of upgrades. Between technological advancements, overall industry growth, and an increasing focus on patient care, a lot has changed and introduced more efficiency into the space. But there have been a few major changes that have largely driven the shifts we've seen in both credentialing and privileging requirements. They include:
#1 - The Rise of Health Systems:
Stand-alone medical centers are out. Comprehensive healthcare systems are in. The Centers for Medicaid and Medicare Services (CMS) has updated standards to allow for the merging of medical staff organizations within a system to improve efficiency. This merging of medical staff means centralized credentialing (usually through a CVO) is a necessity. In fact, it's rare to find a healthcare system that doesn't already have a CVO. In addition, this merging has a direct impact on how a healthcare system credentials, privileges, and hires.
#2 An Increasing number of employed/contracted practitioners:
There's been growth in the industry. And with more recruitment comes the need to integrate credentialing with other onboarding activities, which requires a deeper understanding of the relationship between credentialing and enrollment with payors. Medical professionals now have the opportunity to take the lead in making processes less disruptive and more straightforward for providers.
Perhaps one of the biggest changes impacting medical professionals today is the seamless integration of CVOs with enrollment; they are becoming almost one and the same. The department crosstrains its employees, splitting the workload where some focus on credentialing and others on enrollment. This means an emphasis on training to use emerging technologies is growing exponentially as software use continues to expand and evolve.
#3 An Increased Focus on Clinical Privileging
Over the years, our attention has shifted to the importance of credentialing for patient safety with clinical privileging taking the spotlight. Medical organizations are cognizant of the crucial role privileging plays in ensuring our patients are safe, and cared for by physicians that have been thoroughly vetted. And this isn't something organizations do merely to meet accreditation requirements; we've become more precise with how we define and evaluate privileges so that standardization can take place to keep us accountable and our patients safe.
#4 Growing Expectations for Tech Skills
We have increased our use and expectation of technology to automate business processes, which means staff need to have varied technical knowledge and expertise. The advent and massive growth of telehealth is a prime example of exactly that, especially as COVID-19 continues to force us all out of the office and into our homes. Gone are the days of lists and rosters, and updating multiple spreadsheets. If you don't have the skills to work in a SaaS-based credentialing solution, you may struggle. In addition, many organizations look to these solutions to serve as the "source of truth" for provider data and payor enrollment purposes, adding financial pressures and incentives to ensuring data is pristine and accurate.
With technological growth comes the need for more tech-based employment opportunities within medical organizations. Though not all institutions have bridged that gap, they're starting, and these numbers will only continue to rise as the months go by:

This also means that data integration is becoming more commonplace and necessary.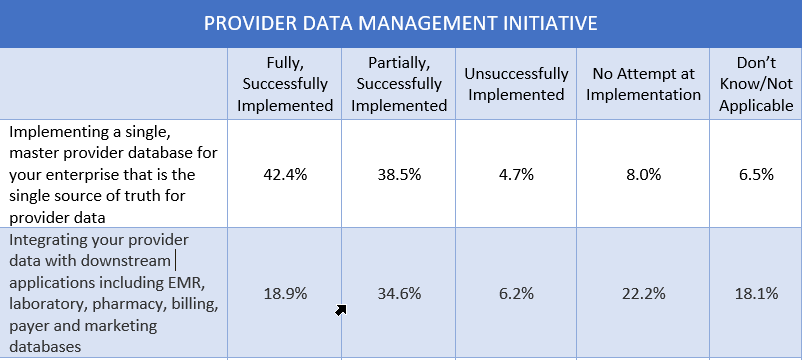 What Does It All Mean?
The rise of health systems, increase in employed/contracted practitioners, enhanced focus on patient safety, and demand for superior tech skills, means that there are more opportunities in the medical staff services field than ever before. In particular, the role of the Medical Services Professional (MSP), who is focused on making sure the entire health system is working together effectively. Considering these trends, successful MSPs will need to possess many of the following qualities:
Investigative
Tech savvy
Creative
Able to dissect state and federal regulatory requirements
Organized to manage complex system governance including bylaws, policies, and procedures
Excellent communicators with exemplary presentation skills
The Future of Credentialing
How can medical service professionals prepare and keep up? Most importantly, we need to embrace technology, harness its power, and make it work for us. That means continuing to educate ourselves on improvements, implementing technology that will advance our organizations, and hiring tech-savvy employees that will keep us in sync with advancements, while always maintaining patient safety as our top concern.
Key Takeaways:
Automating as much as possible now, will ensure we not only continue to face the COVID-19 pandemic effectively, but that we're prepared for whatever new obstacle comes our way.
We need to be efficient communicators, especially as working remotely continues to become the norm.
It's important to always be informed of regulatory rules as they are always changing. As COVID-19 continues to rage on, discussions on telehealth credentialing and enrollment are ever-present, so there's a real need to be vigilant at all times.
By using our knowledge of the past paired with today's technological advancements, we can build a foundation that will inform our future, and support our new normal. If you haven't already moved your organization from paper-based credentialing and privileging, it's time to change that. Keep up with organizations in your area so that you can be the provider of choice your patients will be loyal to. We're here to make that happen.