The Healthcare Revenue Cycle Management Market is large and growing. In 2022, the market was valued at more than $140 billion. Driven by cumulative healthcare spending, experts predict that it is primed to grow at over 12.5% CAGR from 2023 to 2032. Revenue cycle management significantly impacts how well an organization functions. Unfortunately, in the healthcare industry, mistakes made within the revenue cycle are both common and costly.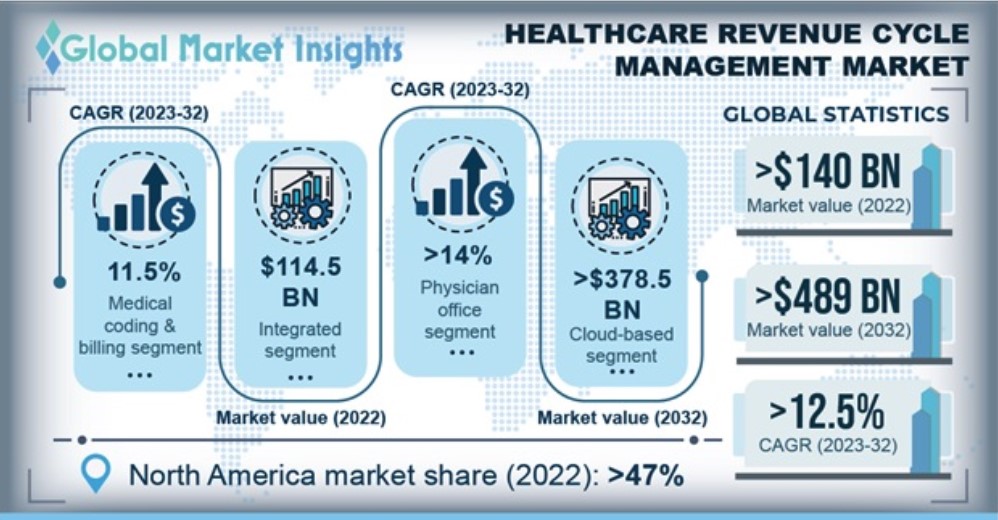 Source: Global Market Insights (GMI)
Understanding Revenue Cycle Management
Revenue Cycle Management is the financial process different organizations use to manage the administrative and clinical functions of a facility associated with claims processing, payment, and revenue generation. This process empowers healthcare facilities to collect any profits so they can keep up with expenses and continue to provide exceptional patient care. Errors during eligibility verification, registration, or authorization are the most commonly made mistakes that lead to costly claim denials.
The Dilemma of Denials
Claim denial rates have been on the rise, with a 23% increase occurring between 2016 and 2020, and the rate has been growing steadily since the COVID-19 pandemic. Denials are problematic, particularly because:
90% of denials are preventable
35% of denial claims are caused by documentation errors
24% of denial errors can be attributed to front-end errors
The good news is that avoiding these issues isn't as complicated as one may think due to the technological improvements we've had in recent years. For example, continuous advancements in Healthcare Receivables Cycle Management (HRCM) solutions are helping to eliminate errors and support market growth. These solutions automate the filing and evaluation of medical claims. Also key are all-inclusive solutions like CredentialMyDoc, which aid in onboarding, provider enrollment, reporting, and expirables management, which all work together to speed up Revenue Cycle Management.
CredentialMyDoc and Revenue Cycle Management
CredentialMyDoc offers a web-based, hassle-free credentialing and provider enrollment solution for growing medical groups. It simplifies data entry and validation, reduces manual errors on forms, streamlines medical billing, and increases provider satisfaction.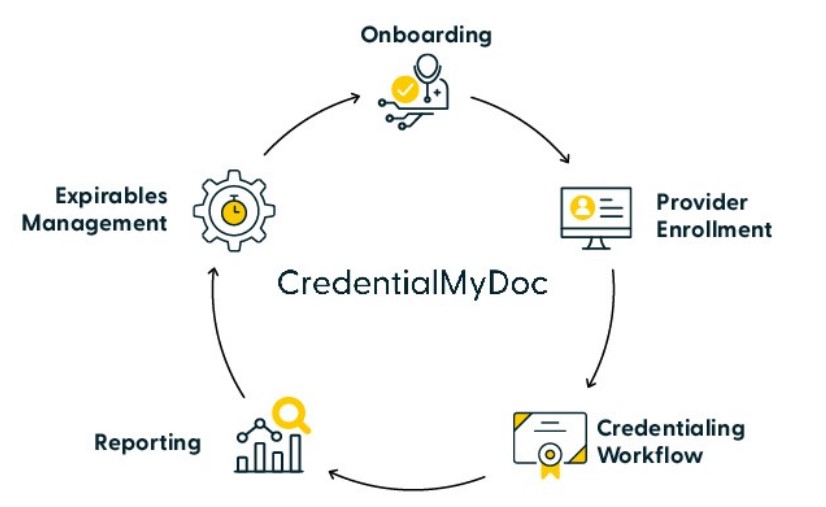 When you consider that a one-day delay in provider onboarding can cost your medical group $10,122, you quickly realize that shaving time off provider enrollment and credentialing processes will save you money. In addition, digitizing the processes creates a workflow that reduces the time associated with paper-based transactions. With CredentialMyDoc, you can:
Store, protect, and share information.
Quickly view, manage, and export provider rosters.
Access checklists and alerts to keep all records current and compliant.
Automate primary source verification with sites like OIG and SAM.
Verify provider credentials instantly, across hundreds of primary sources via a single entry point.
Rapidly complete applications utilizing a library of 7,000+ preformatted payer forms.
Use pre-defined tasks to create repeatable templates for workflows.
"CredentialMyDoc is the staple of our credentialing process. I can't imagine doing business without it. I needed a practical solution that would serve as a data repository and give me the ability to extract, manipulate and report on that data for an affordable price, and CredentialMyDoc checks all those boxes and more."
— Kelle Humphries, President, Adamas Healthcare Consulting
High-quality, verified provider data along with powerful automation creates a slipstream for organizations to quickly scale their networks to meet growing demand. And with ongoing monitoring your network will remain compliant, making it easy to work with providers during renewals.
Results within days, not weeks
Are you looking to improve your Revenue Cycle Management? If so, speeding your credentialing process is a great place to start. Increase efficiency, reduce labor, and eliminate errors with CredentialMyDoc. To learn more, watch the recording of our product insight webinar, Bring Efficiency and Satisfaction to your Credentialing and Enrollment Team with CredentialMyDoc. We hope you find it insightful.